Choosing a career path can seem like a very complex and confusing task, given all the possibilities that are available out there. Still, information is always key when making a decision. So, whether you're interested in becoming a nurse, looking for the best nursing jobs for new grads, or if you already are one, and you want to know if there's a job that suits you better, here we'll tell you what you need to know regarding the best and most exciting nursing jobs of 2023.
Best Nursing Jobs in 2023
Nurses are utterly important health professionals. They provide hands-on patient care in many different settings, such as hospitals, doctor's offices, nursing homes, and prisons. Therefore, they are a crucial part of the healthcare system. These opportunities are worth exploring if you want to land the best possible nursing job.
Certified Registered Nurse Anesthetist
This is the highest-paying nursing job out there to date. This role requires a high level of skill and knowledge, as it involves preparing and administering anesthesia to patients and monitoring them while recovering from different illnesses. These nurses collaborate with surgeons, anesthesiologists, dentists, podiatrists, and other healthcare professionals on a daily basis. The average salary for a nurse anesthetist, considering that they typically work 40 hours a week, is $203,090 per year. Additionally, this field is expected to grow 9% from 2022 to this year, so the outlook for this career looks good. Regarding what it takes to be a nurse anesthetist, you need to get a degree from an accredited nurse anesthesia program and pass the National Certification Examination.
Neonatal Intensive Care Unit Nurse
Caring for babies is only a part of what these incredibly capable nurses can do. These professionals deal with the smallest and most fragile of patients, from their birth until they are discharged from the hospital—some of them even premature or sick. Moreover, they take a front seat when it comes to helping scared new parents navigate their first steps in their journey. So, you can imagine that a day in the life of a neonatal ICU nurse can be as unpredictable as rewarding. Their earnings are $136,592 a year for their typical 36 weekly work hours. Those with more experience and advanced certifications have the potential to earn more. The outlook on this career path is highly positive, as technological advances and an increased frequency of premature births continue to contribute to it. Regarding requirements, you can get neonatal unit experience as a staff registered nurse. Yet, real advancements can be achieved by earning a neonatal nurse practitioner or neonatal clinical nurse specialist designation.
A certified nurse midwife provides healthcare to women of all ages throughout their entire lives, from family planning and gynecological check-ups to labor and parental assistance. They offer similar care to the one given by an OB-GYN. They also provide primary care, such as conducting annual exams, writing prescriptions, and offering basic nutrition counseling.These kinds of nurses often work in offices, clinics, and hospitals, but others have their own practices. They earn an average annual salary of $120,880 and usually work 40 hours per week. Concerning the outlook, the profession has been predicted to grow 6% from 2022 to 2023, so the future of this career path is promising. To become a certified nurse midwife, you must go through the American Midwifery Certification Board to get the required designations.
Pain Management nurses work actively and directly with patients to manage their pain after surgery and work with those who suffer from chronic pain to determine the root of it and the best course of treatment. They begin by assessing their patients to determine the cause and severity of the pain, and from there, they decide which kind of medication will effectively help them. They are structured professionals who follow a routine that allows them to anticipate and prepare for any circumstance, as they may have to tackle different daily situations. Another one of their duties is educating patients on how to properly manage their own pain to avoid dependence on prescribed medications. They have an estimated salary of $124,006 a year and usually work 40 hours a week. With an aging population, the future for these professionals is incredibly promising, as the demand for them is getting stronger and will keep rising.
These professionals play an active role in communicating and creating public health policies to improve society's overall well-being. Their job is to act as an aid to policymakers in the government and healthcare systems. Another one of their many responsibilities is ensuring everyone has the resources and information needed to serve the population best. With healthcare laws and matters of accessibility always under scrutiny, there's always the need for people who can speak clearly to the issues facing both healthcare workers and societal health needs. This career path involves advocacy, research, analysis, and evaluation. They earn around $120,333 per year and usually work 40 hours a week. Since nurses in this field often do consulting work, the salary potential can grow endlessly. Besides, the constant attention put on healthcare policies makes for an amazingly positive outlook. To become a health policy nurse, you must complete a 10-week health policy residency program in government offices.
How to Choose the Right Nursing Job
As we've said before, deciding which nursing career path to follow can be overwhelming, considering the high amount of jobs to choose from. But often, what seems like a very complex and arduous process can be broken up into smaller tasks, which can help to get a clearer picture. So, if you are just starting to think about what direction to take, following the tips below can make the whole decision-making process easier.
Assessing personal interests and strengths
You've probably come across, at a certain point in your education, something that you not only do very well but also enjoy and feel challenged by. If that's the case, this is the right time to start using your skills. Choosing a job that aligns with whatever drew you to the field in the first place helps you ensure long-term satisfaction. Furthermore, if there's a specialty that matches your skills, maybe that's the job for you. Also, note which abilities and strengths are helpful and needed to become the kind of nurse you want. In addition, consider if those are skills you naturally have and, if not, see if it's possible to acquire them. It's also important to consider those jobs that require you to do things you don't like. If you've already decided on specific things you don't like doing or are unwilling to try, you can easily take them off the list. Another good aspect is prospect patients: consider the people you want to help and care for.
Researching and networking within the field
Doing your own research is essential. Looking up information about the best jobs available and making a pro-con list is one of the key aspects of the process. Consider things like setting, education required, personal work goals, and what makes you happy. At the end of the day, your personal preferences are all that matter. Networking can also go a long way when looking to land the perfect job. This strategy will be very useful for attaining long- and short-term career goals, as it can be very effective for building a positive power base. It is also worth noting and researching recruiting companies, as they can make the whole process easier for you.
Seeking guidance from mentors or career counselors
Another thing that's very useful and easy to do is contact other professionals working in the field you're interested in. Finding a mentor who can help you job hunting can be a step in the right direction towards success. Talk with professors, local medical professionals, former nursing students, or even classmates, and take in all the information they provide. Sometimes, the best way to get to know something is by listening to people with experience. If you are given the opportunity to test the waters throughout your education journey, get proactive and take it. Some colleges provide student nurses the chance to experience a variety of nursing practice areas to help them with their future decision-making progress. So, be flexible and open to opportunities that come along the way.
Job Satisfaction and Work-Life Balance
Job satisfaction and work-life balance are essential when choosing a specialty. Having clear expectations on how many hours you'll be able to work and considering the emotional or mental aspects of a particular career path are crucial to getting closer to the job you want. Matching your passion with your goals and priorities will let you build a career that suits your lifestyle. Keep in mind the characteristics you'd like your work environment to have. Things like pace, autonomy, and types of healthcare teams can seem irrelevant but can make a difference in your professional experience. There are even great roles and interesting positions outside the hospital, such as nursing homes, community medical clinics, academic nurse writers, and case managers. Reflect on what you enjoy and where you feel most comfortable.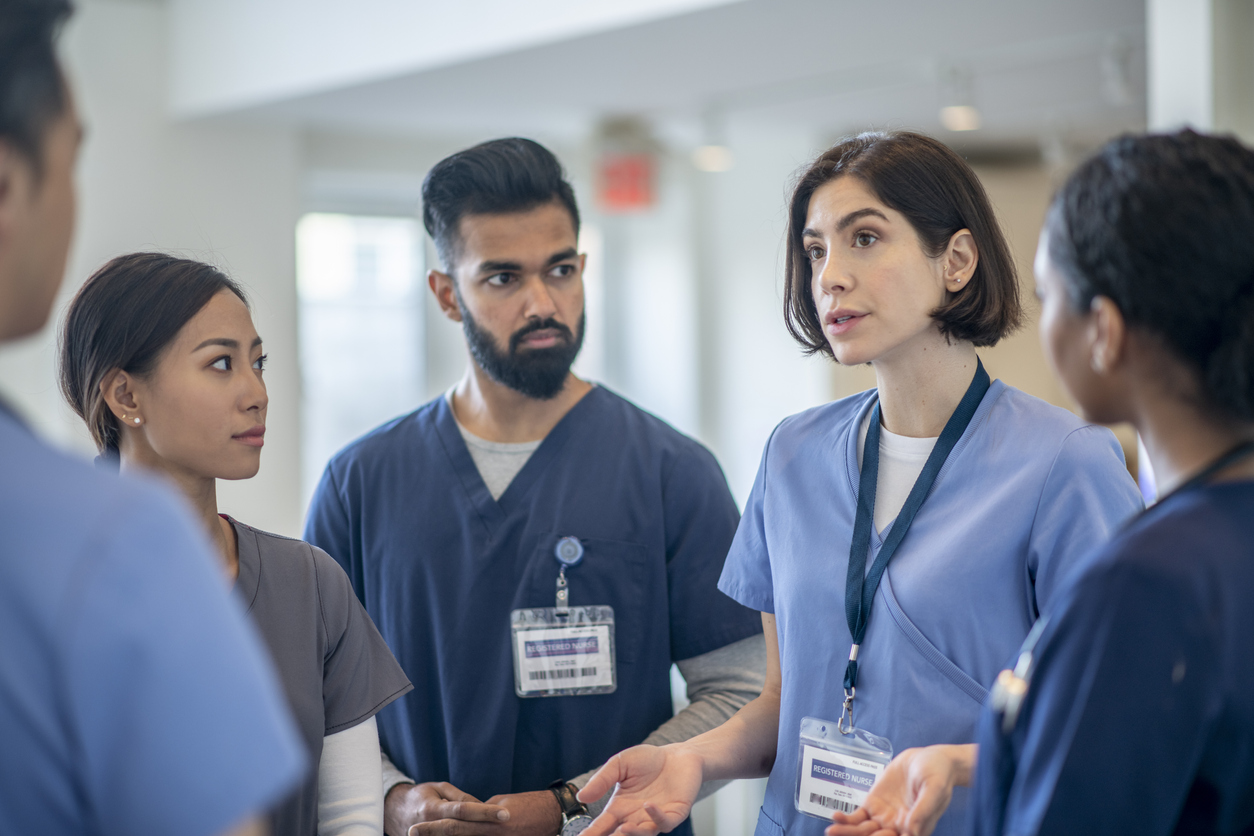 How to Pursue a Career in Nursing
Nursing is a profession that can allow you to do meaningful work while maintaining variety in your life. Fortunately, this field is also rapidly growing and needs qualified individuals ready to fill the gaps. Becoming a nurse is a hard journey that requires much effort and dedication. However, just like everything else in life, it can be achieved if that's what you want and desire. So, if you want to be one, here's what you need to have in mind.
Researching Nursing Schools
The first step to becoming a registered nurse is choosing a program. Formal education is necessary; almost every nursing position requires you to have finished high school. There are numerous degree programs available, which is a great thing. That way, you have many options and can choose the one that matches your needs the most. Some of the most popular choices are an Associate Degree in Nursing, a Bachelor's Degree in Nursing, a Bachelor of Science in Nursing, an Accelerated Nursing Program, and a Master of Science in Nursing. To determine what you want, factor in your learning style and your time frame. The length of the programs may vary from a year to even three or four. If you are excited to get out there and want to enter the field as soon as possible, a shorter program might be what you need. However, if you prefer to earn an advanced degree before you begin working, you might want to go for a bachelor's. Furthermore, many programs are now adding an online option, which can be more affordable and convenient for full-time people or the sole breadwinners in their families.
Internships in Specialized Fields
Most programs mentioned above require students in their last year to complete a clinical rotation or nursing internship. They involve working full-time at a job site to gain experience by exposing yourself to the duties and responsibilities of the healthcare field. After graduation, excelling at these internships can lead to a strong recommendation letter or an exciting nursing job offer. They often last 10 to 12 weeks during the summer and require applicants to meet specific criteria, such as enrolling in an accredited nursing program and completing specific courses. The settings are varied, but most are in in-patient facilities. Nurse interns are usually assigned a nurse mentor who is experienced in the field and will be available to answer questions and offer guidance and feedback. Additionally, there are many volunteer positions, shadowing programs, and summer camps, which you can enroll in on your own.
Emerging Trends in Nursing
The world is constantly changing due to technology, and every field is evolving and adapting to the new opportunities advancements can bring them. The nursing field is no exception to this change, and the profession experienced an unforeseen evolution just a few years ago. Nurse practitioners have been pushed into a more principal role and given greater clinical authority. This was mainly caused by a looming physician shortage and the COVID-19 pandemic, which affected patients' access to proper care. So, with all the developments in technology and an increasingly growing field, we can expect a high demand for nurses in the future.
Technological advancements impacting nursing jobs
Innovations in healthcare, such as portable medical devices and robotic aids, have recently made their way into the normal day-to-day lives of medical professionals, creating a more efficient healthcare experience and providing better and more varied treatment options. People pursuing a career in nursing can expect to take on several roles that require being equipped with the necessary knowledge to operate complex devices. They can also expect a more seamless integration of electronic records into patient care, including predictive bioinformatics. In the last few years, some advances affecting nursing are telesitting technologies, telehealth technologies, blockchain credentialing, mobile staffing apps, and artificial intelligence. However, technology is changing how we see health inside hospitals or clinics and affecting nonclinical nursing settings, such as nonprofit organizations, healthcare corporations, and consulting.
The role of telemedicine and remote nursing positions
Telehealth is an expanding sector that has nurses at its core. Health professionals are now providing virtual care through video sessions or telephone calls at an increasing rate. This methodology is tremendously helpful as it creates a more effective workflow, enabling patients who don't need urgent care to stay home and still receive healthcare. People who use this service can send and receive messages, talk to health providers live, and use remote monitoring so that the provider can check on them while they're at their houses. The time nurses spend providing telehealth is also expected to increase as new communication technologies continue to emerge.
Sustainability and diversity in the nursing workforce
Nurse practitioners can be found in many different settings and caring for a very diverse population of patients. As nurses are one of the largest workforces in healthcare, they can be powerful agents of change. There's some good work being done in hospital management regarding having a greener practice, which includes improving waste facilities, energy systems, and transport options. Reducing resource use in nursing practice is vital, and carbon emissions have already been reduced thanks to sustainability in healthcare environments. Furthermore, as the growing population becomes increasingly diverse, the need for professionals who collaborate from a culturally sensitive perspective becomes increasingly important. There's a direct connection between a diverse nursing workforce and nurses' ability to provide culturally competent, quality healthcare that includes a profound understanding of others' backgrounds.
Conclusion
As we've seen throughout the article, nursing is a field that is constantly evolving and adapting to all the changes occurring in the world. This profession is expected to keep growing as the demand for nurses rises. So, if you're interested in becoming a nurse, keep in mind the previous tips and prepare for an incredibly challenging but rewarding life journey.